Our local team finished the installation of rainwater harvesting systems in 4 different locations in Thaketa township, Yangon. Through these 4 initial interventions, we aim to make the first steps in engaging the community with rainwater harvesting and educate them about how collecting and (re-) using rainwater can make the community more climate-adaptive through water retention and delaying run-off during the monsoon while conserving water for the dry season.
Over the coming weeks, we will develop tailored placemaking activities around each of the locations to help us engage and educate the community.
We chose 4 different places in Thaketa to install rainwater harvesting systems:
1. Two residential houses
2. The Library
3. A Tea Shop
Each of these places – private and public – has different characteristics, allowing us to demonstrate different principles and benefits of rainwater harvesting.
Here we provide a short overview of each of the locations:
For the first household, they do not yet use rainwater and are primarily interested in using the rainwater for drinking and domestic purposes. Groundwater Pump is their main source. They are highly interested in using rainwater for drinking if it is filtered. 
Household 2  
There is a very active resident who already installed her own rainwater harvesting system and already stores and uses rainwater. They also pump groundwater and there are to be at least 4 rainwater storage units (tanks/containers).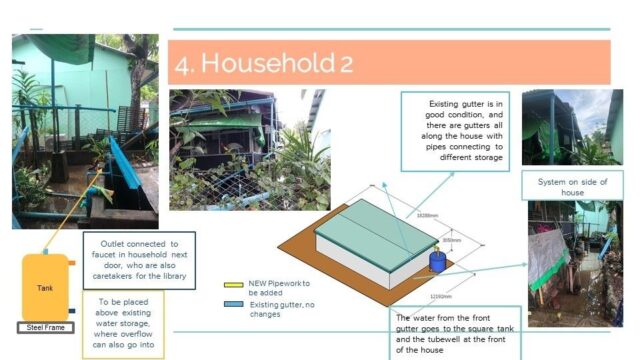 The Library  
The library is an important place in this neighborhood. The library has a large roof and there is plenty of space on the premises to store water. Many people visit the library, so it is a great place to engage the community with rainwater harvesting.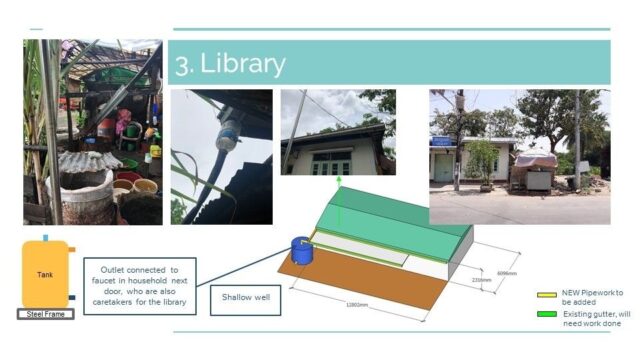 Tea Shop  
Tea shops have an important social function in Myanmar society as meeting places. As it attracts a lot of people from the community, has a large roof surface and uses a lot of water, this is a perfect place for rainwater harvesting. The tea shop also offers the opportunity to use the rainwater to cool the roof and reduce the heat in the shop.