As part of the Thaketa Climate Resilient project, one of the aims is to improve the drainage system for Ward 5, and decrease the impact of flooding for its residents. In order to do this, the main drains towards outlet 1 and 4 and the outlets themselves need improvement so that the improved internal drains (see here) can discharge properly to the river . 
Figure 1 gives an overview of the locations that need improvement. Details can be found below.
Improvement of design of the drains numbered as 5 & 7 (discharging to outlet 1) and 13 & 14 (discharging to outlet 4)
Improvement of Outlet 1 (marked as 1 in figure below) and 4 (no. 10 in figure):

operation of outlets, including negotiation with community
functioning (cleaning, maintenance)

Improvement of main culverts: no. 3, 6, and 12 in figure below
Drains that can keep their current design and only need cleaning and maintenance are 2, 11, and the drain underneath Fortune Plaza (between number 3 & 4) in the figure below.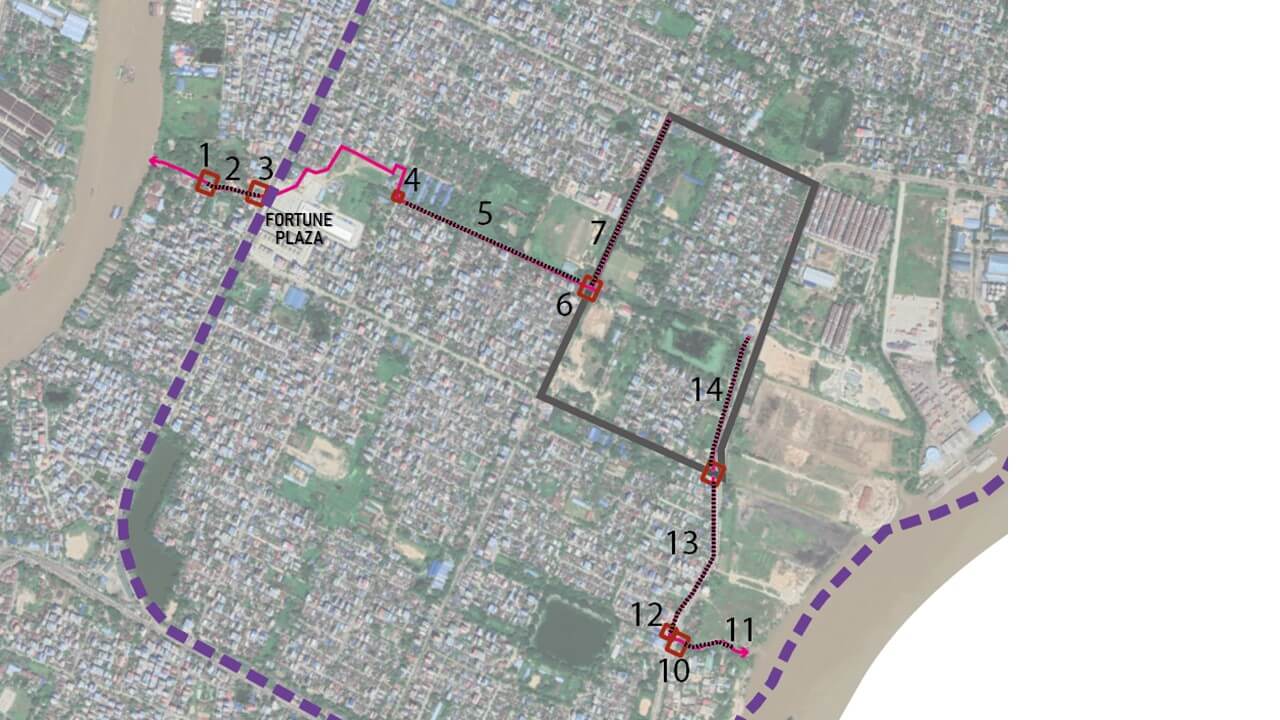 These drains are a major contributing factor to extensive flooding around the reservoir in Ward 5, affecting many people on a day to day basis and having an impact not only in the rainy season, but also causing the stagnant water in the dry season. By making a range of alterations – some are very minor – these alterations will help to decrease the flooding in the area. It is important to note that these alterations are not complex, and by demonstrating simple methodologies and accurate calculations, the work we are proposing for Ward 5 can be replicated and scaled to other areas. In producing these recommendations, we have been working closely with YCDC to ensure knowledge transfer and we will continue this approach throughout future phases.
Unfortunately due to the circumstances in Myanmar in 2020 and 2021 YCDC was not able to implement the proposed interventions. We shared all our analysis and final proposal with YCDC.