Introduction & Basic Information
Flood emergency interventions refer to long-term sustainable measures to reduce the impact of flood hazards and actions to carry out during a flood emergency. It includes preparing sand bags, building physical flood emergency centres, flood preparedness and emergency offices by the community and the government, and preparing manuals on activities.
Within this project, we mainly focused on the possible use of sand bags:
Using sand bags is a very visible and short-term solution; it shows our commitment to help the ward, and also gives the ward officer the means to help his people
The use of sandbags probably need to be combined with simple electric water pumps – to get rid of the water that gets stuck
Possibly to combine with generators, to use during power cuts – but very noisy and dirty.
Most appropriate scale: household level, possibly combining some households

To use them on a larger scale level we need a better understanding of water and land levels and dependence on bigger pumps. There is also the risk of increasing flooding issues in neighbouring wards.
Street level might be possible but already needs some hydraulic understanding
Note: some households might not want to protect themselves (they will simply accept a few hours of water). That's ok: resilience also implies that households may make their own assessment. However, this should not lead to a weak link in flood protection.
Content & Technical Design
How do we lay Sandbags?
(Source: EVRECA)
Place down a layer of plastic sheeting to act as the water proofing membrane.
Lay sandbags like brickwork on top of the plastic sheeting.
Start at one end and work to the other end.
Ensure the unfilled top part of the bag is covered by the next bag.
Tuck flap under the bag at the end of the row.
Stagger rows so that the joins do not line up.
Sandbags are not sufficient to prevent water infiltration through the bags. For this reason, it is necessary to place a waterproof plastic sheet between the bags and the door.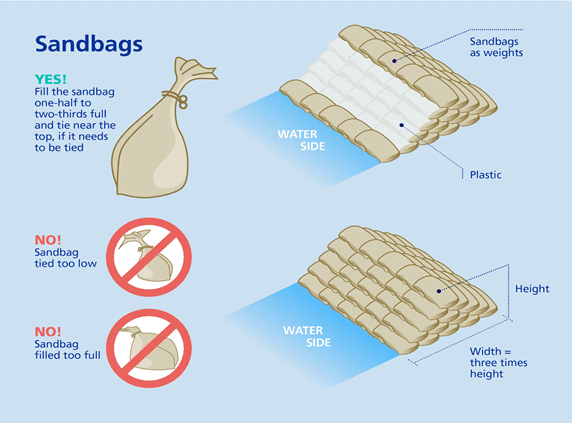 Basic flood defenses methods with flood boards and sand bags can be seen in the following examples: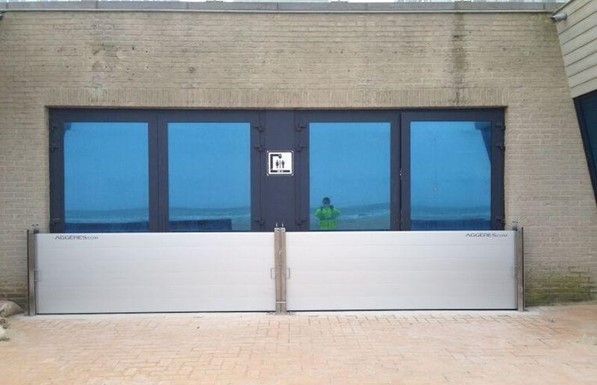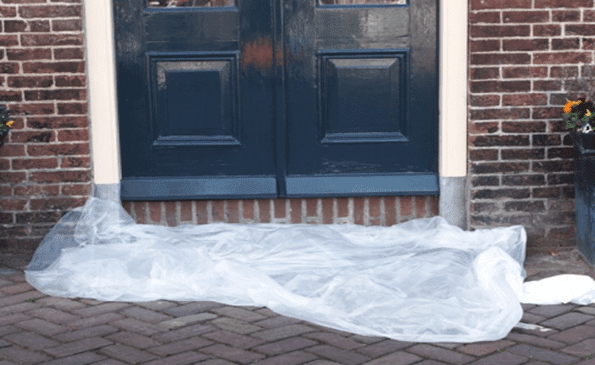 Multi-Criteria Analysis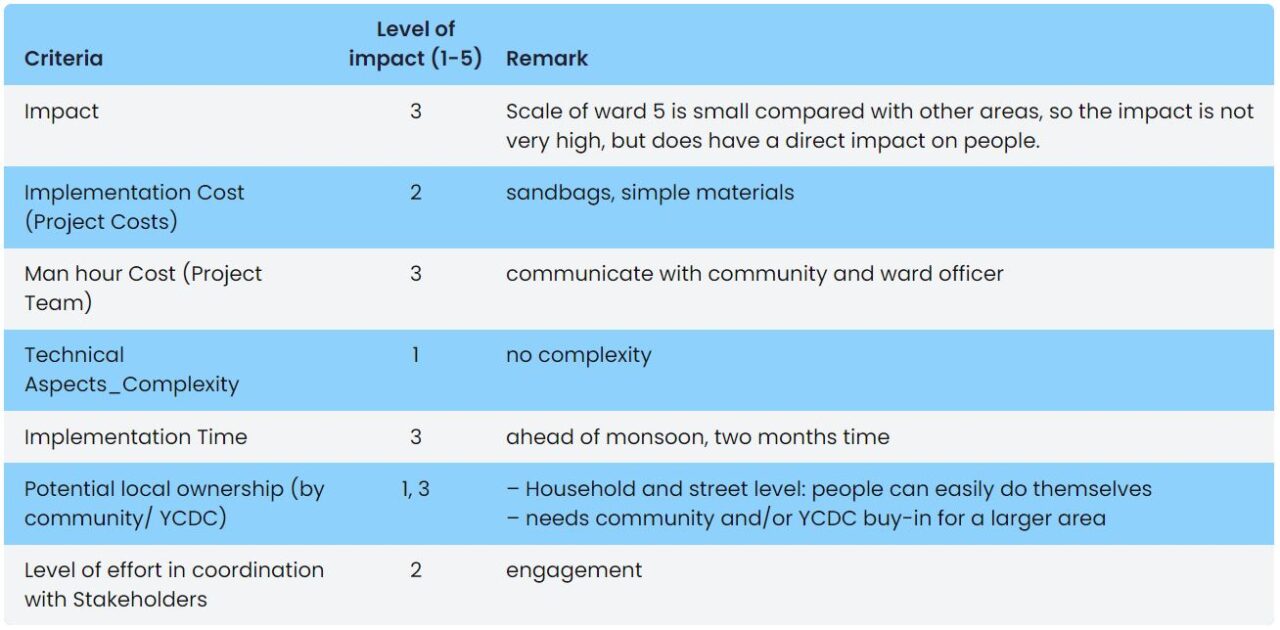 Criteria
Level of impact (1-5)
Remark
Impact
3
Scale of ward 5 is small compared with other areas, so the impact is not very high, but does have a direct impact on people.
Implementation Cost (Project Costs)
2
sandbags, simple materials
Man hour Cost (Project Team)
3
communicate with community and ward officer
Technical Aspects_Complexity
1
no complexity
Implementation Time
3
ahead of monsoon, two months time
Potential local ownership (by community/ YCDC)
1, 3
– Household and street level: people can easily do themselves
– needs community and/or YCDC buy-in for a larger area
Level of effort in coordination with Stakeholders
2
engagement