Bali Raincraft is the third edition of the Asia Raincraft program, initiated and developed by The Water Agency. This program aims to tackle water and climate issues faced by the local community in Bali by creatively using Minecraft as the co-design and participatory tool.
Case Study: Lapangan Puputan Renon Area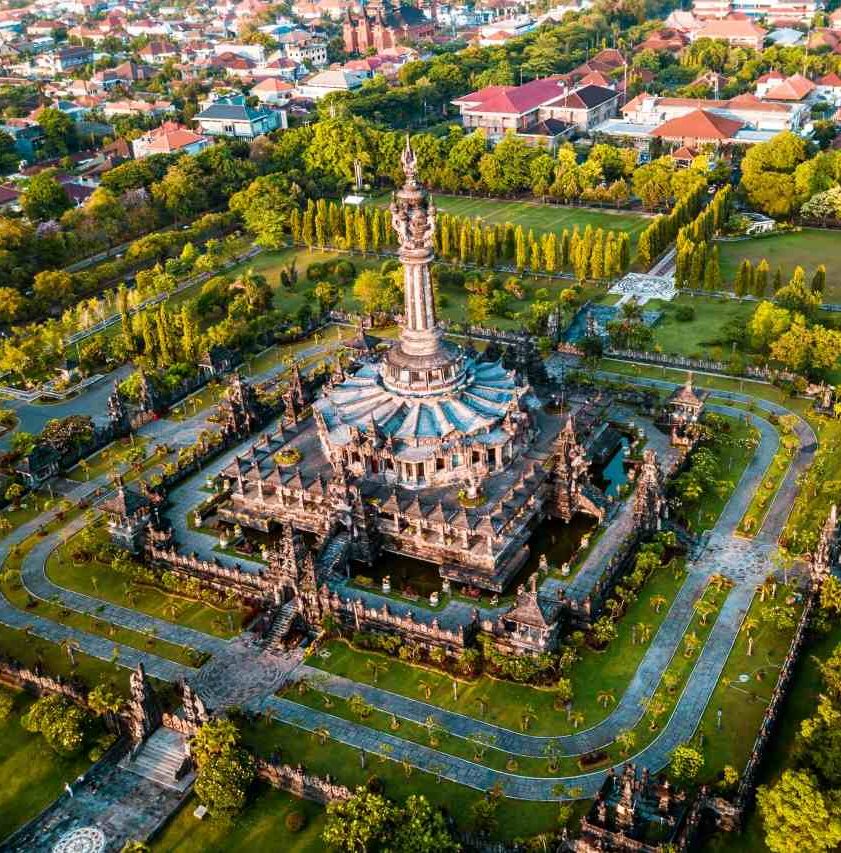 Bali, the most famous tourism destination in Indonesia, faces a water crisis due to massive tourism development and water mismanagement. Drought and water shortage have affected food production in the area. For the past few years, Bali also has been hit by flood incidents due to heavy rains and issues with water sewers. Groundwater pollution, mainly due to seawater intrusion, was also reported to occur. Lapangan Puputan Renon is one of the areas which experiences all these issues.
Located at Denpasar, the capital city of Bali, Lapangan Puputan Renon is a famous open public space that attracts local and international tourists, owing to its large green area and its iconic cultural building called Monumen Bajra Sandhi (Bajra Sandhi Monument) at its centre. This destination is very accessible and close to the government office along with the other tourism stops. However, issues such as flooding, drainage blockage, and groundwater quality decline are observed to occur in the area. Given the area's importance for local community activities, and with the support of local stakeholders, Lapangan Puputan Renon is a fit choice for the program.
Program Objective
Bali Raincraft is designed for Beasiswa Indonesia Maju (Indonesia Maju Scholarships) awardees as a capacity-building program, addressing the subjects as mentioned above in a fun, informative, and engaging way through the use of Minecraft. The participants will conduct a series of activities to promote community participatory planning and increase awareness of neighbourhood-level water issues by using a digital tool. From workshops by experts to the co-design for problem mitigation, it is expected that our younger generation will have a better insight into the current water and climate issues in their neighbourhood.
Main Activities
WORKSHOP
Knowledge exchange activities between students and experts about particular topics (offline)​
RAINCRAFT MODULE
Learning module about specific topics that are designed and adjusted on Minecraft (online)
CO-DESIGN
Build their own version of solution and design adaptation in Minecraft (hybrid)
PRESENTATION
Participants and team to present and explain their built adaptation (including Q&A Session) (offline)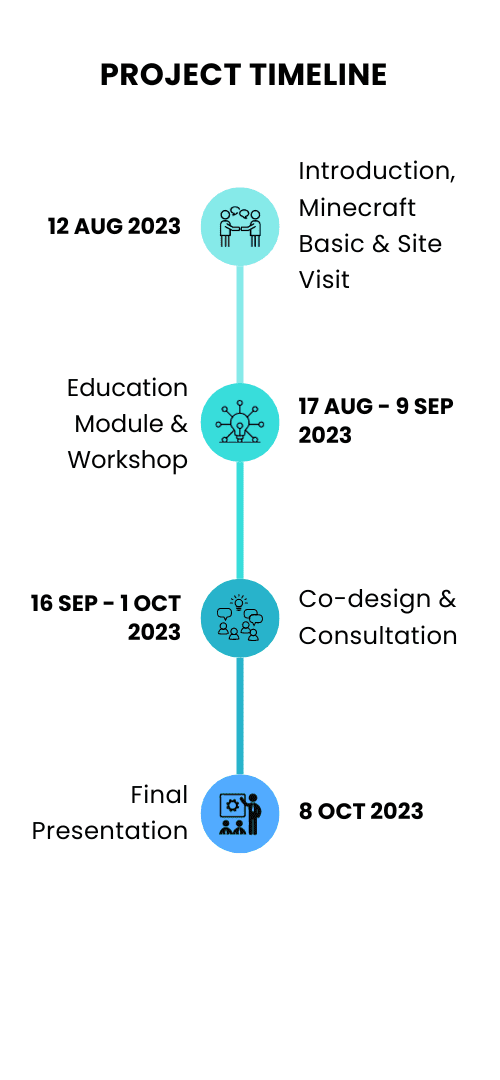 Collaborating for Success: Our Trusted Project Partners